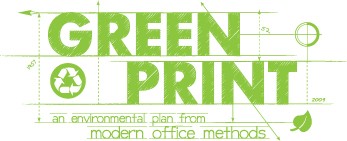 You know us by our red and black MOM logo, but you might not know that MOM has added another color to its brand – GREEN. We launched our Green Print sustainability program to combat the carbon footprint made by the business community.
Our MOM Distribution Center in Cincinnati was one of the first departments of the company to lead the way with our efforts to go green. The Distribution Center reuses and recycles approximately 75,000 pounds of cardboard annually. They also recycle and repurpose between 150,000 and 200,000 pounds of machine parts, saving that metal and plastic from being dumped into area landfills.
But, we took things a step further. Offices use paper, produce waste and expend energy. At each of our MOM offices, we have paper recycling bins at each desk and in our demo rooms, along with plastic recycling bins in all of our lunchrooms.
MOM is a leader of office technology, so it only made sense for us to develop our Green Print program, that not only reduces our company's carbon footprint, but that also makes strides in reducing that of our clients.
Some examples of equipment efficiency and how to get the most savings:
A B/W MFP uses less energy in a typical workweek than a 100 watt light bulb.
Midrange COLOR MFPs actually cost as little as $20 a year in utility costs.
MFPs use about the same amount of energy per week as the leading color desktop printers, even with copy, scan, print, and faxing capabilities all in one.
You can manually launch MFPs into low power mode by pressing the Energy Saving Mode button on your control pad.
Quick Start technology allows machines to launch from Energy Saving Mode to full operations in 10-15 seconds or less.
A fleet of 100 35 ppm machines can save 11.2 tons of CO2 per year by utilizing Energy Savings Mode.
Equipment older than four years likely uses more energy than the latest models. Upgrading to the latest 45ppm machine can save you $313 in utilities over five years.
Consolidating several stand-alone printers into a single MFP workgroup can save you hundreds of dollars on your annual utility bill while reducing carbon emissions.
At MOM, our colors might be

black

and

red

, but we're

GREEN

underneath.
If you have 6 B/W laser printers and consolidate them into 1 color MFP, you can cut your energy consumption by 78% and save about $98 a year in utility costs while having a direct environmental impact by reducing carbon emissions.
What Our Technology Partners Are Doing For The Environment:
Did You Know…?
It takes between 400 and 1,000 years for a toner cartridge to break down in a landfill.