LIVE • LEARNING • INSTRUCTIONAL WORKSHOP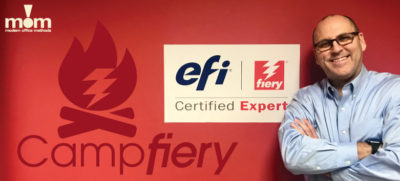 We can't think of a better way to spend a fall day than learning from a Pro and hitting the links! The Dye name is renowned in the golf world and at MOM, we are lucky enough to have our own expert, Vern Dye, who is a Fiery® Certified Expert. Vern has brought instant value to our team and Production Print clients. There's nothing like learning from a Pro and we know our Dye will get your production into the swing of things!
Join us on Thursday, November 15th at TOPGOLF – Polaris to learn from an expert. Learn tips and tricks for…
Command Workstation 6.2 "Under the Hood"
Color Optimization "Fine Tuning Your Settings for Perfection"
Navigator Client "Metrics to Better Manage Color Volumes"
AGENDA:
10:30am – 12:00pm: CampFiery Workshop
12:00pm: Lunch in the Bays
12:00pm – 3:00pm: GOLF!
TOPGOLF – Polaris
2000 Ikea Way
Columbus, OH 43240
Register Here for the November 15th CampFiery Workshop at TOPGOLF – Polaris.