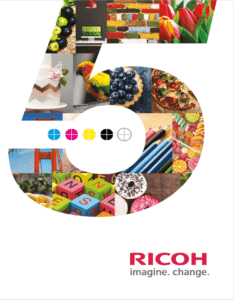 Ricoh's workintelligent.ly site is a wealth of knowledge for our industry and we look forward to sharing many articles from their site in 2017. One of the most interesting products that Ricoh released in 2016 was the Pro c7100-c71170 series with it's ability to print with both White and Clear Toner. Below is an article by John Fulena about the impact the 5th Color station can have on your printing environment. Internally, MOM has utilized the 5th Color station for event flyers, candy bar wrappers, and tickets with a clear coat so they cannot be duplicated. Enjoy the article below…the 5th Color station is definitely worth a closer look for your business in 2017.
John Fulena
John Fulena, Vice President, Production Printing Business Group, Ricoh USA, Inc., oversees the design and implementation of all marketing and business strategies to drive Ricoh's success in the Production Print market. With more than 30 years of industry experience, Fulena continues to be an integral part of Ricoh's leadership in the Production Print market.
What would it take for Graphics and Marketing (GAM) to enter the luxury retail, customized promotions and packaging, restaurant and hospitality industries?
Nevertheless, even with offset, digital and wide-format equipment acquired over the firm's 40 years in business, Grant watched profitable jobs walk out the door because he lacked in-house capabilities to produce decals, loyalty cards, oversized brochures, and short-run book jacket covers.
A wonder of effects
Creative possibilities danced before Grant's eyes. No longer would he have to offload jobs to a specialty printer. He could handle decals, window clings, metallic effects, light box transparencies and more from his own production floor.
Behind the magic
Simulating metallic printing and producing promotional displays on synthetic materials opened the door to luxury brand clients.
Producing in-store signage and seasonal promotional items landed jobs from food service clients.
Enabling cost-effective security and authenticity watermarks drew another group of clients.
Printing unique, eye-catching pieces, on short runs, at affordable prices brought designers and creative directors knocking at the door.
GAM has been approaching high-end retailers, ad agencies, and hotel and restaurant chains to tell their story and discuss how the new 5th color technology can set them apart from their competition. Orders have been coming in for large, personalized posters, six-page newsletters with variable data, and even postcards 4-up, and brochures running 2-up. Ultimately, GAM has made a measurable impact on its business and future proofed itself in a rapidly evolving industry.