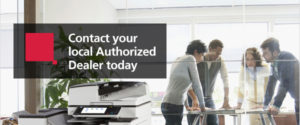 Terminology changes but the basics of office productivity do not.
Digital workplace
is a term that cropped up two or three years ago. Generally, it refers to the tools that workers use to do their jobs productively. Today, productivity depends largely on how efficiently and cost effectively workers manage information. And to manage information, offices still rely on basics like document solutions, document workflow, document management solutions, office copiers, multifunction printers, print management and so on. 
Acquiring, implementing and supporting digital workplace products and services can be complicated and time-consuming for office staffs. That's why many businesses turn to us. We take our role seriously. As digital workplace experts, we decide which products to sell and support with an eye to what's best for our customers. That's why we are a Ricoh/Savin/Lanier authorized dealer. 
With the Ricoh Family Group behind us, we believe we're in the best possible position to support digital workplaces with the service excellence you expect. Here are a few of the reasons you can trust us with your business: 
Award-winning technology
. Products that lead the industry in quality and reliability minimize downtime and disruption in your business.
Training and certification
. Our factory-trained service technicians are certified based on strict standards. Ongoing, they keep your solutions up to date with subsequent training, technical bulletins and access to firmware upgrades.
Ability to maintain superior uptime.
When necessary, our technicians can escalate issues to Ricoh's certified technicians. Dedicated to support authorized dealers, these technicians are just a phone call away.
Consistency
. We deliver technical support services that adhere to the manufacturer's guidelines. Inconsistent, improper or untimely maintenance and repairs can cost you more in the long run.
Genuine Ricoh/Savin/Lanier parts and supplies
. Using the manufacturer's parts and supplies is recommended for product performance and longevity.
All this is to say that service excellence doesn't just happen. It is the result of the right attitude, people, products, knowledge, skills and processes.  
Further, as a Ricoh Circle of Excellence member, we're proud to let you know that we go the extra mile with business planning, formalized processes, certifications, customer satisfaction surveys and more — all of which improve the services you receive.