Hackers are always developing new ways to get around your business's security to access your valuable critical or sensitive data. Even more disturbing is many of these attacks go unnoticed for days, weeks or even months. Securing your company's data and infrastructure in today's business environment is crucial. A Managed IT Services provider can implement measures to protect your company's data, network and systems.
The Biggest Threat
Weak security is one of the biggest threats for most small and medium-sized businesses. As the COVID crisis increased online shopping, and remote work fragmented the workplace, cybercrime spiked in 2020. In fact, the Ponemon Institute found that seventy-six percent of small and medium-sized businesses were attacked in 2019, up from 55% the previous year.
Not only did attacks increase, but the expense of managing data breaches rose significantly. On average, companies victimized by hackers spent approximately $1.2 million in 2019 to repair the damage.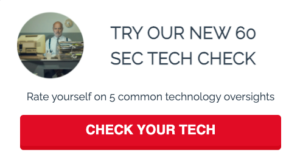 Common Cyberattacks
Typical cybersecurity attacks are financially motivated, and include phishing scams and ransomware, taking advantage of misconfigurations and unpatched systems and social engineering. Small and medium-sized businesses are often prime targets for attack because they are less likely to recognize and respond to threats quickly, primarily due to their lack of resources.
Using Proactive Managed IT Services to Protect Your Data
If you don't have the resources to employ an in-house security team, Managed IT Services is an extremely effective, and affordable, alternative. A Managed IT Services provider uses a comprehensive range of support prioritizing end-to-end security. These techniques and tactics include data encryption, real-time threat prevention, security awareness training, firewall protection, and around-the-clock monitoring.
A good Managed IT provider will address all vulnerabilities within your IT infrastructure, isolating and addressing gaps in your security. This can help you achieve faster performance and advanced notification and recovery in the event of a breach, or other technical issues.
Managed IT Services: Benefits Beyond Security!
A Managed IT Services provider can not only protect your sensitive data, but they can also optimize your business to help you improve performance, streamline workflows, upgrade technology, and lower your costs.
Taking a proactive approach to your company security will save you time, money, and aggravation both over the long, and short term! Are you ready to learn more? Contact us today and set up a free IT assessment. We'll help you identify gaps in your security and offer solutions to keep your data safe and your network secure!